Float like a butterfly. Sting like a bee. His hands can't hit what his eyes can't see.

In 'League & Legend', 15feet6 take their visual comedy and breathtaking circus into a collision course with sports, with all the thrills and spills you'd expect as three acrobats battle each other…and gravity!

Armed with pole vault poles and tape they beat every record on their way to the top.
The name of the game is irrelevant, the show anything but.
Go 15ft6!
Duration: 40 mins
UK Premiere
Artists: Mateo Girón (E), Niko Miettinen (FI), Richard Fox (GB/B)
Direction: Jasper D'Hondt (B)
Production: Tropic Sound Circus vzw & Le Patineur
Co-production: MiramirO
Residencies: MiramirO, Circuscentrum, Circusplaneet, Theater op de Markt, Cirk! Aalst
Audience Accessibility: Little to no dialogue, focuses strongly on visuals. Suitable for wheelchair users and those with limited mobility. Assistance dogs allowed.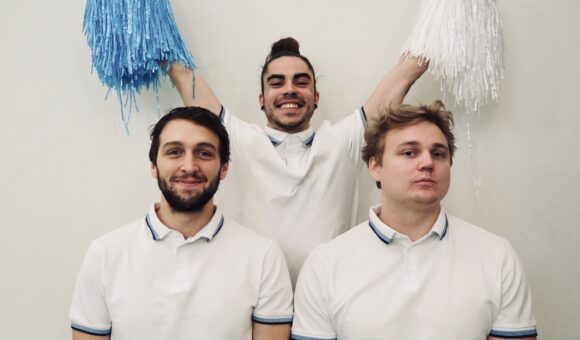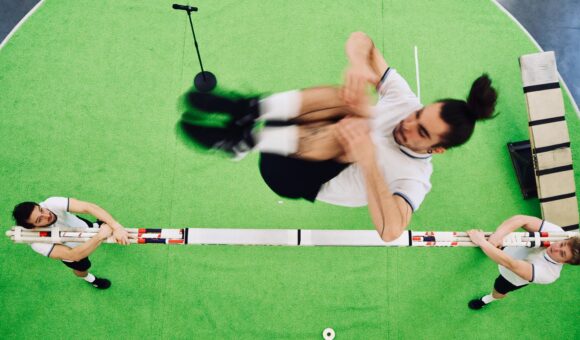 Site Access >

Site Access

There is level access to each performance pitch.

The site is open and wide for audiences to socially distance, but the volume of people will change depending on how busy each show is. Capacities are monitored throughout the day.

There is a mix of hard-standing, grass and gravel areas. The Dissenters Graveyard (Pitch C5) features uneven terrain. A pathway has been cleared for all audiences.

Viewing area 

Space for wheelchair users, and a variety of seating options will be available. Out There Festival hosts will be on site to assist with any need.

Accessible Toilets 

The closest Changing Places Toilets to Zone C is The Troll Cart. There will be gender neutral portaloo toilets provided on site. Baby changing facilities are also available at The Troll Cart.

On-site walking distances  

Approximately 10 minutes walking across the whole site. There is a controlled entrance and exit point. 

Resting and Access Areas 

There are various public benches available north and south of the zone, 2 minutes walking distance. There are various local cafes surrounding the zone.

Blue badge parking  

Brewery Lane Car Park, 7 Priory Plain, Great Yarmouth, NR30 1PL.

Access drop-off point 

St Nicholas Rd.

Contact  

If you have any access requirements, please contact Jacob Hewes jacob@outtherearts.org.uk
Show Access >

Accessibility:

Wheelchair Accessible

Assistance Dogs Welcome

Mostly Visual 

Minimal dialogue

Audio Description available

Content & Trigger Warnings: There are moments of audience participation encouraging the audience to clap. To start the races a 'starting gun' is used, there is a loud, sudden bang. An actor puts his finger in his ear before shooting.