Let's give Great Yarmouth an even greater splash of colour to it's historical look.
The HS HAZ GY Cultural programme will be hosting a year round window trail within businesses and shop fronts throughout our historic town centre. Using windows as platforms for multi media creative displays exploring the towns rich heritage, professional artists through workshops, creative participatory activities, heritage learning and skill development will co-create striking installations, to celebrate the towns buildings, people, shops, trades, crafts, folklore, cultural and maritime traditions.
If you would like to get involved, host a window and be part of the trail please contact: Katy Kingston at katy.kingston@outtherearts.org.uk
Part of the Great Yarmouth High Street Heritage Action Zone Cultural Programme
HS Cultural HAZ is an exciting 3 year programme for professional artist and community collaborations exploring and celebrating Great Yarmouth's unique character, heritage and national significance as a centre for circus and entertainment.
Through year round participatory creative activities including workshops, heritage learning, performance, skill development and experiences; Great Yarmouth's key arts and heritage organisations will animate and co create cultural programmes and wider town developments with communities, residents and businesses in the High St. Creating a more vibrant, engaging place to live, work and visit through cultural regeneration for GY.
HSHAZ Window Trail – Creative Collisions Collaboration Animation.
Delivered by Artist, Matthew Harrison.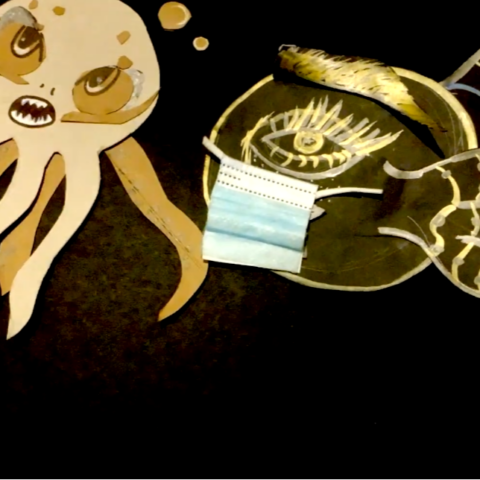 Creative Collisions HAZ Window
In this retail unit, a hairdresser's that once offered fades and scissor cuts, a looping stop-motion animation imagines the depths of the North Sea.
Lantern fishes, dagger tooths and luminescent eels, each made from cardboard and waste packaging, dart and tussle in dark waters that are largely a mystery to us high-street revellers.
This animation was created by Bethany (aged 16), Tom(aged 13) and Kitty(aged 13) and Misha(18) who worked collaboratively to animate their aquatic creatures over two workshops in August and September 2021, supported by local artist and animator Matthew Harrison. As you pause to watch this burst of creative energy, imagine what other worlds your high-street can offer…
Thanks to Heritage England, Out There Arts, originalprojects;, Laura Burnham, Matthew Harrison, Katy Kingston and Time and Tide Museum's National Saturday Club for supporting this animated window display.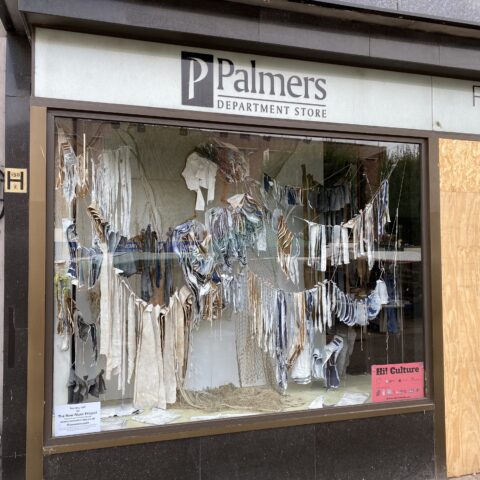 Herring Girl
Herring Girl by The New Muse Project displayed at the old Palmers Department store in the HAZ Zone.
Created by Felicity Brown & Caroline George using locally found fishing nets and off-cut fabrics kindly donated by Great Yarmouth Oilskins, Jeckells, Soul Bay Fish Co.
newmuseworkshops.co.uk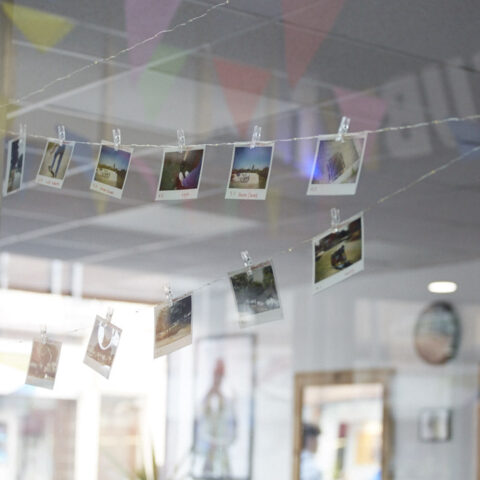 Norfolk CC Social Services
Photographs taken by young people of Great Yarmouth, who were asked to capture what they felt about the town within a single polaroid picture.
Each individual interpreted the task differently with an independant and creative lens.
The photographers were all between the ages of 11-18 and had never used a Polaroid camera before.
The aim of the project was to get young people to engage with their environment and also to explore the arts.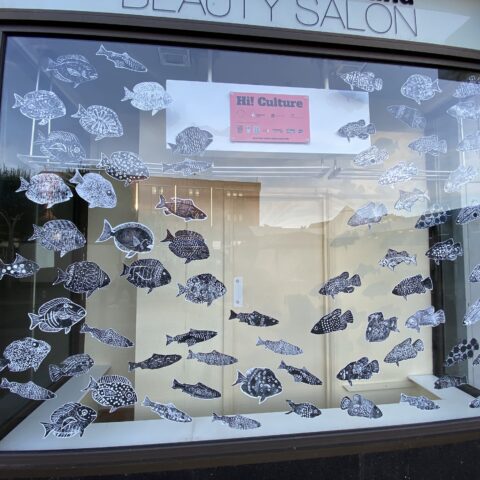 Great Yarmouth Shoal
Created by over 100 Great Yarmouth residents (aged 4 – 80) who took part in a series of relief print workshops exploring Great Yarmouth's rich Fishing Heritage at the Out There International Festival of Circus and Street Arts and also at the Family Saturday events hosted at The Drill House.
Thank you to artists Gabbi Minas and Donna Thompson for guiding, inspiring and supporting everyone to explore mark making and print.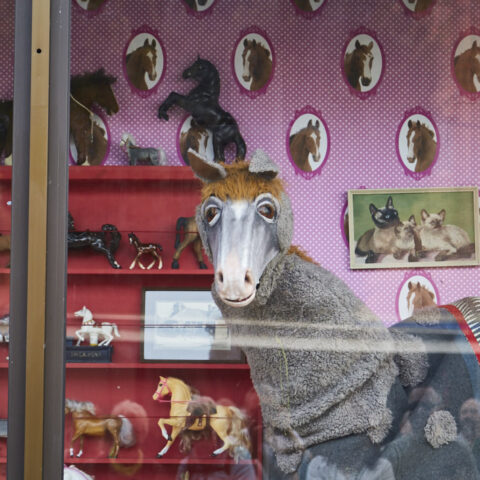 EQUIDAE RETIREMENT HOME FOR PANTOMIME HORSES
Under career carer Carol's care, meet "Old Paint" the first resident of Equidae, Great Yarmouth's rest home for retired pantomime horses. They were to be found living in the large picture windowed room at the front of what was Beales / Palmer's department store in the Market Place.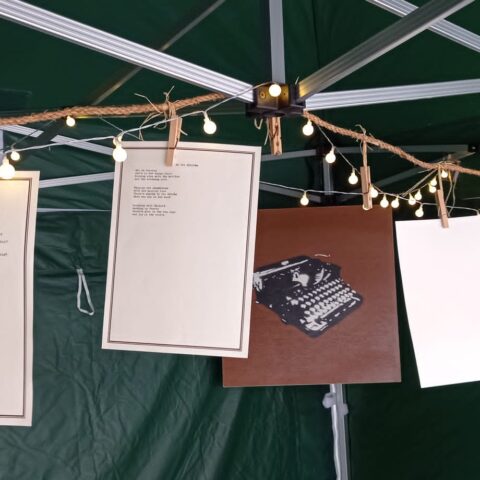 Poetry Shack
Ever wondered what would happen if you had two writers completely at your disposal? We invited audiences to join Lotte and Clare at the Poetry Shack where free verse is plentiful, smiles come easily and words are flavour of the day. Order and takeaway a poem created especially for you.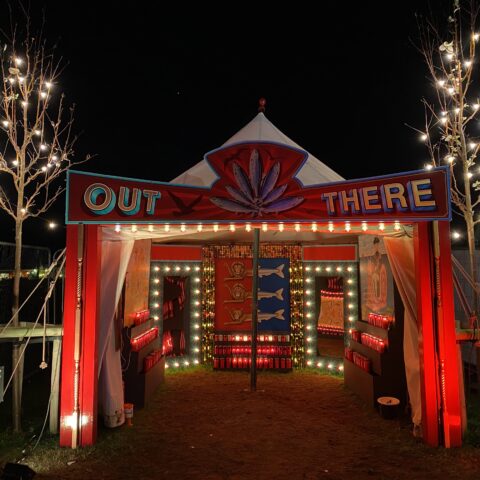 Great Yarmouth Shrine
During the Fire on the Water Experience event in Great Yarmouth, we hosted a shrine for members of the audience to visit and donate for a wish, explore artworks from local artist Mark Copeland and reflect on their community.